Are you not sure if you need Gutter Repairs And Cleaning services?
Checking to see if you need gutter repairs and cleaning services is very important. Gutters are an integral part of your home. Gutter installation is important to maintain the health of your home. Without a gutter, you are going to face a plethora of problems. Some can be serious and costly as well. However, gutters are normally overlooked by home and business owners.
What Do Gutters Do?
Gutter does a great job by draining out rainwater. They divert water away from your property. Heavy rain and bad weather can wreak havoc on a home, particularly your foundations, windows, door, and sliding. Without gutters, costly damages are obvious. Water will poll around your property causing damages to your foundation.
Gutter will protect the foundation of your home and landscape while preventing basement flooding. Also, it can stop mildew and mold growth and mitigate paint damage.
Types of Gutters TA Hughes lll repairs & cleans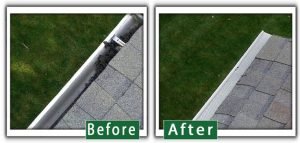 There are two types of gutters: Commercial gutters and residential gutters. Therefore, you need to choose the right one depending on your property. Two different applications will certainly demand two different types of gutters to deal with the water run-off.
Regardless of the type of gutters, both residential and commercial gutters serve the same purpose. They drain the water from the roof of a building during rains and mitigate any roof leakage and damage by redirecting the rainwater towards sewers through downspouts. However, there will be some subtle difference between the two types of gutters. If chosen wrongly, you might not expect the desired benefits.
Residential and Commercial Gutter repairs and cleaning services we provide
Residential gutters are specially made for the small townhomes, apartment building, or suburban homes. These gutters are normally installed next to the edge of a hipped or sloped roof. It accommodates towards a lot of nearby gardens and trees.
Commercial gutters are bit different than the residential gutters. These are designed to be installed on the flat roofs, especially for taller buildings. Commercial gutters are suitable for medium-sized storefronts, warehouses, and larger townhouse complexes. The commercial gutters are capable of handling heavy rains as the large surface of the building needs to be drained out.
Gutter Repairs And Cleaning services In NJ
Gutter Repair in NJ will differ depending on the type of gutter and its material. Similar materials are normally used for both these types of gutters. Two popular types of gutter materials are aluminum or galvanized steel. However, some homeowners prefer sectional vinyl or copper. Vinyl is super affordable and copper provides a differentiated appearance.
Every gutter is subjected to heavy and gradually, they demand maintenance or repair. Therefore, it is imperative to inspect the gutters regularly to find out any possible damage. Any delay in residential gutter repair or commercial gutter repair will lead to serious problems. In some cases, you might need to replace the gutter. If the damage is internal and you are unable to find out, it can truly affect your foundation.
A gutter problem always does not need a replacement. You can fix the issue most of the time by hiring the right professional. There four common gutter problems. These are leaking, overflowing, pooling runoff, and sagging. You can experience all these problems in both commercial and residential gutters. Once you notice any gutter problem, it is important to hire a professional to fix the issue right away to avoid further deterioration.
How to Avoid Gutter Replacement
The best way to boost the longevity of your gutter is to protect it with gutter guards. A gutter can be clogged with twigs, pine needles, buds, small branches, and leaves. Gutter guards are designed to prevent clogging & to keep the debris out without blocking the water flow. They can be very effective in spring and fall when you find your gutters are clogging most of the time. In addition, regular maintenance and cleaning can keep your gutter clean and can boost its life as well.
Gutter Repairs And Cleaning Repair Tips
1. Maintain your gutter regularly to avoid costly repair and replacement
2. Focus on the safety while inspecting and cleaning your gutters
3. Inspect your gutter & Roof on a regularly
4. Use the right tool for cleaning or repair
5. Consider renovating sagging gutters
6. Fix the damages soon after noticing it
We, TA Hughes lll, are able to repair all types of gutters. Our skilled professionals can offer a cost-effective and timely solution. Our three decades experiences help us to deal with any gutter problem. Contact us or call (856) 845-8505