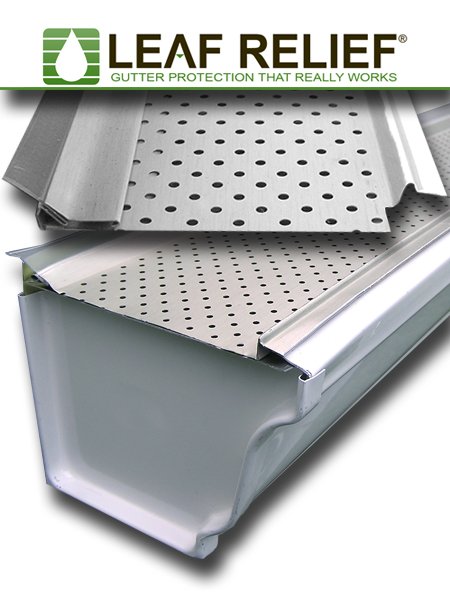 The maintenance of traditional gutters requires a constant effort to keep them free of debris, especially in the fall season. Aside from the accumulation of leaves, twigs, and other materials that cause clogs, they are difficult to protect from other outdoor factors. Mold, mildew, pests, snow, and ladder damage are all ways that the gutter system is susceptible to damage.
Leaf Relief offers the highest level of protection and peace of mind that is guaranteed under a 25 year warranty. It is simple to install as a direct mount that fits the standard sizes precisely. With the addition of this discreet product, fallen debris has no way to enter the gutter system to create an overflow. The vinyl flap is also treated against the growth of mold and mildew, while also resisting wear from UV light exposure. It is the smartest and most valuable innovation available for resolving the most common problems with gutters.
The Ply Gem design is able to catch the majority of pine needles, twigs, and other small debris that is shed from surrounding trees. There is rarely a need to manually remove the accumulation of natural material as wind that reaches 6 mph is able to remove most dry debris, while wet debris typically clears at 23 mph. Rest assured that as this material is collected on the protective surface, water is able to continue to flow into the gutter through the obstruction at an effective 19 inches per hour.
Leaf Relief for standard gutters is more effective than other types of gutter protection at keeping natural debris; such as leaves and twigs, from blocking your gutters. Leaf Relief can drain 29.7″ of rainfall an hour-that's more than the highest rainfall ever recorded (Holt, Missouri 1947 at 12″) in one hour. Leaf Relief is not only the most effective gutter protection system on the market, it is also the most invisible. Leaf Relief® lays flatand fits snugly on top of your gutter. Leaf Relief's 25 Year Warranty is your peace of mind that it will keep gutters from overflowing due to internal gutter clogging.
HOMEOWNER BENEFITS
Virtually eliminates routine gutter maintenance
Protects home from water damage
Invisible from the ground
Helps gutters withstand damage from ladders, snow and ice
Keeps birds, squirrels and pests out of gutters
Extends life of gutter system
Every homeowner that wants to keep out pests, extend the lifespan of their current gutter system, and continue to protect the home from water damage can benefit from Leaf Relief. If you're ready to put your ladder into storage instead of climbing up to clear debris every few days, fill out our contact form to get started with innovative gutter protection.