#1 Siding Contractors in New Jersey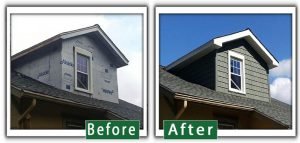 looking for reliable siding contractors New Jersey that can fix the whole appearance of your house. Outdated, peeling, faded exterior siding is not a look that anyone is proud to call their home. It's especially noticeable when there are other renovations, such as a new roof or updated windows. Replacing materials every couple of years is not an economical solution, nor is it necessary to buy the most expensive product available on the market. We work with durable materials that look great with the rest of your exterior styles without requiring much maintenance to keep it looking nice. Let us help you choose a product and material that fits perfectly with your taste and budget.
Professional Roof and Siding Contractors
Working with high-quality materials is only half of the battle when completing an external material upgrade. Professional siding contractors that take pride in perfecting the details are your greatest resource to ensure that your investment is satisfying in the long-term. Our licensed team of roof and siding contractors is knowledgeable about materials and the techniques necessary to make it look flawless. Leave the fine architectural details to the local professionals that have been building a great reputation within the community for over 35 years. Click here for the latest Alside brochure!
We offer the following commercial or residential Siding Services:
New Installation
Gutter and Downspouts
Siding Replacement
Gutter Cleaning
Siding Inspection
Siding Repair
We Specialize in the following siding materials:
Vinyl Siding
Insulated Vinyl Siding
Wood Siding
Fiber Cement Siding
Brick
Stone
Vinyl Siding Contractors
It's ideal to find a durable product that is stylish and requires very little maintenance. The initial thought of most people is to go with the greatest aesthetic upgrade to make the neighbors envious of your improvement. Vinyl siding is very versatile as far as material colors and textures, and it also happens to be fairly simple to keep in great condition. You can appreciate the advantage of a wooden appearance without the disadvantages of weather damage, fading from the sun, rotting, and peeling. We're proud to offer vinyl, steel, specialty siding, matching trim, and decorative accents from Alside, a manufacturer we highly recommend for exceptional craftsmanship.
Siding Repair Contractors in NJ
Worn out materials decrease the appeal and value of a home that would otherwise be an ideal space. Mildew and dust accumulate without regular cleaning, and certain materials cannot hold up to regular pressure washing. After a few years, it begins to crack, fade, and warp from constant exposure to the pressure and conditions outdoors. You may begin to experience greater problems than appearance as it fails to provide insulation and protection from moisture. Once it begins to fall apart, there is little that can be done to repair it effectively.
#1 Siding Company In NJ
Make a smart investment in a product that you can rely on to stay in excellent condition for many years. Fill out the contact form so that our siding contractors can offer you assistance every step of the way, from deciding on the best product to a professional installation. Your family will feel confident knowing that their home is being treated to service from the team that believes quality never goes out of style.