26
December 2019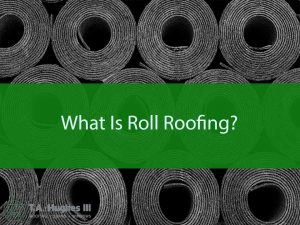 Roll roofing is a roofing product made up of mineral substances. You can find roll roofing in 100 sq meters cylinder-like shaped. There are many types of roll roofing including rubber, EPDM, tpo, bitumen, design-based, smooth finish, mineral finish, saturated felt, and eaves flashing. While choosing the best one may depend upon the homeowners' needs, the most common one is the rubber roll roofing type. This is because it's cheap, easy to install, and has a low-maintenance cost compared to other types of roofing available in the market today.
Rolled roofing is normally used for practical structures such as barns, outdoor exercise structures, outbuildings, treehouses, and work and potting sheds among others. It is usually used in those structures that have a low slope (when your roof declines up to one inch vertically for 12 inches horizontally. However, roll roofing can still be considered safe when there is a 2:12 ratio (vertical to horizontal inclination slope).
How Long Should a Rolled Roofing Last?
The life expectancy of rolled roofing is anywhere between 5 and 15 years.
How Much Does a Roll of Rolled Roofing Cost?
The price of rolled roofing is from $30 to $100 for 100 square feet (or square as it's known in the roll roofing world). The cost of installing roll roofing is around $1.50 to $3.00 for every sq foot. If rolled roofing needs to be disposed of, meaning, you want to get rid of an existing one to get a new one, the cost of removing it is around $1 to $2 for every sq foot.
Advantages and Disadvantages of Rolled Roofing
The pros of roll roofing are:
a) Price. Roll roofing is the cheapest roll roofing material. It is even lower in price than composite shingles which are considered low-cost products in the market. All of the materials involved in roll roofing are inexpensive. This includes the nails.
b) When it comes to low-incline roofing, roll roofing is the best option. However, when used in flat roofs it may not be leaked-proof.
c) It can be set very quickly, given its rolling nature, roll roofing can be rolled on the roof fast. This is contrary to shingles which have to be put on a one by one basis.
d) Transportation is easy. Shingles can be heavy. Each roll roofing unit weighs 75 pounds and is rolled up and fastened.
e) Adaptability. It can be cut into smaller pieces of 12 inches to 36 inches.
f) Possibility of reroofing. If you have shingles in your existing home, roll roofing can be put on top of it.
The cons of roll roofing are:
a) Few varieties of colors. Most roll roofing comes in black. Other colors available are green, gray, and tan.
b) Durability. Shingles last more time. Roll roofing can tear if there are changes in the building's structure. Composite shingles can last for more than 20 years.
c) Lack of attractiveness. Some homeowners' associations won't allow this type of roofing because it may not appear to be attractive.
d) It doesn't add up that much to a home's resale value. Roll roofing can be considered as a temporary roofing solution.
Bottom Line on Rolled Roofing
Roll roofing has become an important alternative when it comes to roofing. It's many advantages have lured many consumers into buying it. It is very useful to use in utilitarian structures (not so much in residential property). Low cost, adaptability, and convenience are some of its advantages. On the other hand, it also has a set of disadvantages including lack of variety in terms of colors, low durability, and lack of attractiveness. It is important to hire a professional roll roofing company to get the best cost-benefit relation from your roll roofing purchase and installation.
Hire a Professional Roll Roofing Company for Your Roll Roofing Services Needs
At T.A. Hughes, we have been using effective and proved strategies in the field of residential and commercial roofing in the New Jersey area for more than 35 years. Feel free to call us at (856) 845-8505 or fill out our easy-to-fill form at your website https://tahughes.com/ to get a free quote on your roofing services needs.